Scaling SHAPE: Accelerating Delivery with Procore Action Plans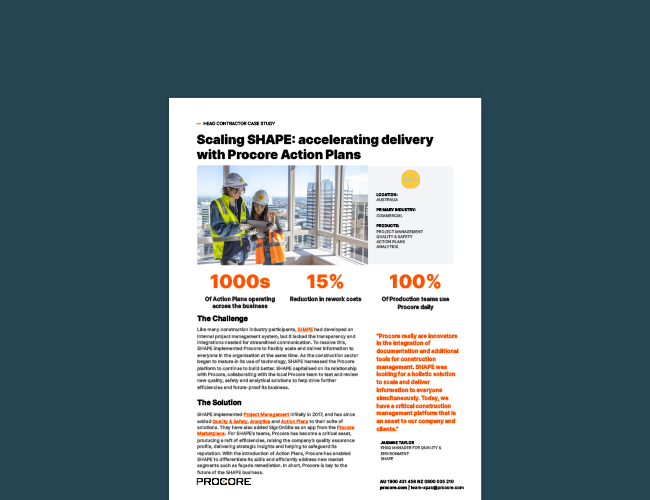 Technology needs to be robust today. Still many companies are struggling to keep up with the changing landscape of project management. SHAPE, a leading construction company, was no exception.
SHAPE already had an internal system for managing projects. However, it lacked the transparency and integrations needed for effective communication.
The case study discusses how SHAPE's collaboration with Procore has helped it streamline its internal project management system. Moreover, it also talks about how Procore has successfully assisted SHAPE:
Enhance its quality assurance reputation
Attain valuable strategic insights
Protect its reputation in the industry
Sponsored by: Procore
This page is FastPass tested and is compliant with Microsoft Accessibility features.
Get Exclusive Access to the White Paper
21424-21423
Scaling SHAPE: Accelerating Delivery with Procore Action Plans
By downloading this publication, you understand and agree that you are providing your personal information to Anteriad, LLC, and Anteriad may share your personal information with Procore, pursuant to Anteriad's Privacy Policy. Furthermore, Procore may use your personal information to provide you with marketing materials and contact you regarding its services, pursuant to Privacy Statement.